"Most of us have far more courage than we ever dreamed we possessed."
Dale Carnegie

What made you want to be an Emcee?
There I was, standing in my Air Force full dress blues uniform, behind a wooden podium, sweaty palms gripping the sides, heart pounding, and I was about to (for my first time EVER) "Officiate" aka Emcee the retirement ceremony of a highly respected Air Force Officer who had over 20 years of military service.
Can you feel my anxiety?!?! ---->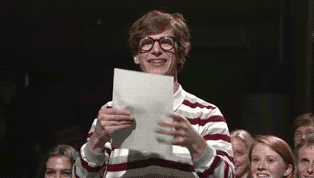 In the end it worked out 😅​ and his retirement ceremony went as he wished. 🙌
I needed some courage in that moment, and the funny thing about courage (or confidence) is that it's not something you can read about then gain, think inwardly about it then it naturally appears outwardly.
Courage appears, then grows, only AFTER you begin doing the work!
While doing the work and taking an audience seat in other live events, so I could learn from others, I began noticing something that made me uncomfortable.
I looked around and it was also making other audience members sit with a similar awkward and discomfort facial expression as mine.
We all seemed to be thinking the same thing... Get this person off the stage!! Or in the south, we like to just say, "Bless their heart." LOL
The person we all felt bad for was the poor Emcee.
We've all seen it happen... Names are mispronounced, their jokes aren't funny, they ramble and ramble and ramble, etc.
​
This is when I set out on the mission to rid the world of BAD EMCEES.
I began exterminating bad introductions one by one on a cool radio show where a weekly opportunity to set up people to successfully share their life comeback stories to a live audience.
It's kind of like watching an Olympic Dive Team. The ones who leap off the platform then pull of these AMAZING flips, turns, bends and other maneuvers before plunging into the pool.
Would you rather see them jump from a really high platform where they have an abundant amount of "space" to put in their awesome moves, or would you rather see them jump from a much much shorter platform with very little space to only put in one to two moves?
Of course you want to see more!
A good and effective Emcee will create an abundant amount of space for the main people (those who you came to see anyway) to shine. Bad introductions create shorter diving platforms.
The privilege of hosting the Journey Principles Institute Radio Show and Live Events was the catapulting journey of personal discovery for me. Here is where my Professional Emcee and Event Hosting journey was launched!
While interviewing lots of people from all over the world, with diverse backgrounds and different viewpoints I've discovered a common thread amongst all of them. Each of us has a powerful story of our own, and when told it has the potential to dramatically unlock hidden potential in others.
It comes up when we are listening to someone talk about their story during their keynote, a wedding toast, or brief bio being read, and then that thought hits us. "Hey that's exactly like me!!".
Truth is I believe in this powerful connection so much that I'm emphatically passionate about setting other people up for success to share their story. You never know who's waiting to hear and needs to hear it.
As a host, whether on radio or on stage at a live event, there are two areas I've found are the art for setting someone up to share their message successfully:
1. Audience Experience
2. Edifying People
Audience Experience is a HUGE part of a live event! You've worked so hard in planning and preparing your event to leave a lifetime impression on the people there, and I want to come alongside you to achieve that victory!
Audience Experience is a major element in the "Dream Come True Formula".
Edifying People is one of the absolute most enjoyable parts I enjoy!
Introducing people should include genuine and energetic edification.
People deserve to be bragged about, and as your professional emcee, I don't leave any room for error when introducing and edifying. Attention to details is another key element of the "Dream Come True Formula"!
Let's connect about what your Dream Come True Formula is BELOW